"K" HOUSE
Click on sketch or plan for larger view of same.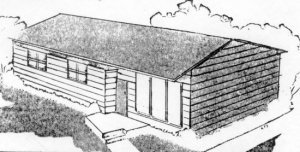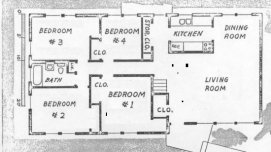 Single Family Dwelling
One Story
Four Bedrooms ~ One Bathroom
Approx. 1300 sq. ft. + Full Basement
60 Homes Built: 1950 - 1951
Heat: Oil

Contractor: L.E.Baldwin, Inc. & Assoc., Seattle, WA
~~~~~
This company consisted of L.E.Baldwin, Inc., Frank Dunham, Inc., and Thorggard Pluming & Heating Co., Inc. and built all 85 "C" duplexes and 60 "K" single units at a contract price of $3,335,975.06 which also included 8 single unit apartments and one six unit apartment.






Go to a page where you can see a small sketch of ALL houses
and click the one you want to view OR click a letter below.
A B C D E F G H I K L M Q R S T U V Y Z
1-BR Prefab ~~ 2-BR Prefab ~~ 3-BR Prefab
2 BR Pre-Cut ~~ 3 BR Pre-Cut
3 BR Ranch ~~ 4 BR Ranch
~~~~~~~~~~~~~~~~~~~~~~~~~~~~~~~~~~~~~
Apartments & Dorms
High School Building ~~ Recreation Building






page started: 11/26/98
page updated: 03/28/04
Email the webmaster
"K" HOUSE